How do I access documents in Prostream?
To view folders and documents, you need to have access.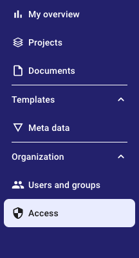 You can have full or partial access to documents in Prostream. This access is granted by the administrator. They can decide whether you can create, view, edit or delete folders and/or subfolders.
This is how you grant access:
At My overview, go to Access (the shield icon)
Select a user
Tick or untick what he/she is or is not allowed to do.