Placing items on a drawing
1. Open the desired visit, tap on Attached drawings and select the drawing you want to place a Snag or survey on. The selected drawing is opened.
2. Keep your finger on the spot in the drawing where you want to add a Snag or survey.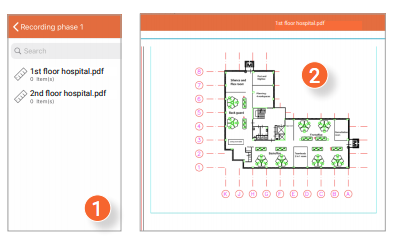 A new window is opened.
3. Choose whether you want to add a Snag or a survey.
4. Select the Snag or survey template you want to place on the drawing. The Snag or survey template is opened in a new window where you can enter all relevant information.
5. Fill in the information of the Snag or survey.
6. Finally, press Save in the top right corner of the screen when you're done.