Dashboard
After logging in, you will be taken to the Dashboard. The Dashboard consists of a number of different
features:
1. Dashboard: return to the Dashboard with a summary of all data within the current domain.
2. Projects: select one of the projects within the current domain and view the visits, drawings, Snags and surveys of the project.
3. Management: edit multiple settings within the domain. The options on the Management page depend on your user role.
4. Selecting a project: select the project you want to work on.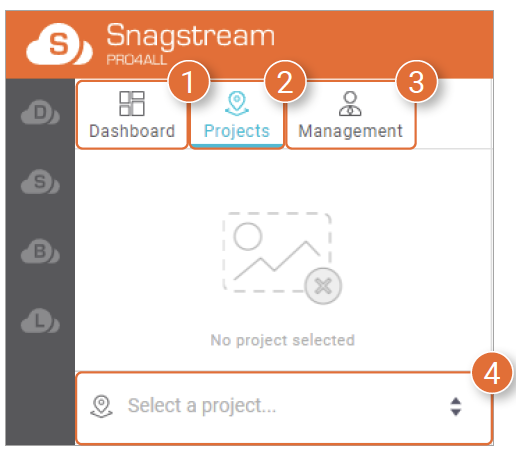 5. Pro4all Support page: open the Pro4all Support page in a new tab of your web browser with more information about the Pro4all services and contact information.
6. User settings: edit the password of your Snagstream account or log out with your Snagstream account.
7. Domain summary: view a summary of the total number of visits, drawings, Snags, surveys, users and more within the current domain.